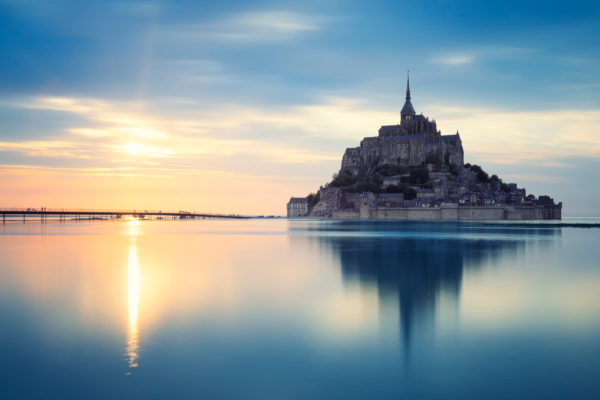 Its unmissable attractions
Normandie has 6 places or traditions listed – or registered – as UNESCO World Heritage sites, but also villages listed among the "Most Beautiful Villages of France" and 2 thermal spas. Beyond these remarkable sites, each town and village in Normandie is worth discovering.
Along the coast (D-Day beaches, Cotentin…), steep cliffs follow fine sand beaches. Also, the old fishermen's villages are next to famous seaside resorts. Finally, in the hinterland, the heather gives way to undulating mountain ranges and the lakes and marshes hide oases of greenery.
In short, the Normandie countryside with its plains and its cool, undulating bocage is a haven of peace and serenity. Rightly called the "Wonder of the West", Mont-Saint-Michel is surrounded by a magnificent bay, the scene of the highest tides in Europe. Located between the Breton Pointe du Grouin (Cancale) and the Norman Pointe de Champeaux (towards Granville), the Bay of Mont-Saint-Michel is listed by UNESCO as a World Cultural and Natural Heritage Site.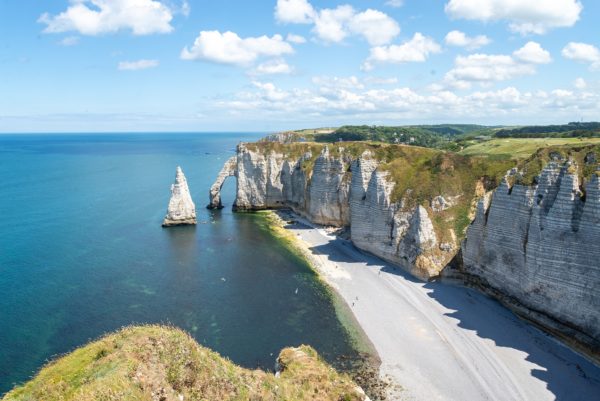 Normandie: a region full of history
Beautiful, grandiose and luminous, the cliffs of Etretat are world famous. The natural openings of the resort, classified as a National Site, are called: Porte d'Amont, Porte d'Aval or Manneporte. At low tide, take a few steps on the beach, the oyster beds from the 17th century and the legendary "trou à l'homme" can be discovered. From the marked paths, feast your eyes on the fascinating fauna and flora: herring gulls, northern fulmar and peregrine falcon…
Also, the landing beaches in the American sector are Utah Beach and Omaha Beach, and in the Anglo-Canadian sector, they are Gold Beach, Juno Beach and Sword Beach. One of the great turning points in the history of the 20th century occurred in France. Indeed, during the landing of the Allied forces on the beaches of Normandie, which was a decisive phase in the resolution of the Second World War. Finally, to remember or to learn more about these events, a whole circuit exists through the key sites of the landing of 1944. The itinerary begins or ends with the Caen Memorial, a must-see.